Capital GM George McPhee has already fired the head coach, now, it's time for the roster shake-up to begin, and that could start with the Great 8
Since November 6, 20 percent of National Hockey League teams have fired their head coach. The carousel began in St. Louis, when after a 6-7 start, Davis Payne was fired. Replacing Payne as the first of six new head coaches would be ken Hitchcock, who last coached the Columbus Blue jackets during the 2009-10 season and was himself fired after 58 games.
The 22 days between Payne's firing, and what was coming can only be described as the calm before the storm. On November-28, the unemployment rate would rise by two, as two teams form the Southeast division delivered pink slips in one day.
Our beloved Bruce Boudreau was shown the door in Washington, and Paul Maurice in Carolina.
Former Capitals tough man and team captain dale Hunter replaced gabby in D.C, and Captain Kirk Muller now patrols the back of their bench in Raleigh on game days. These firings occurred less than 25 games into the season for all three teams, but this just marked the halfway point of the in-season firings for six NHL teams
Two days later, the Anaheim Ducks fired Randy Carlyle, who led Anaheim to their only Stanley Cup win back in 2007 and brought in Bruce Boudreau. Depending on whom you ask, the former Caps coach was unemployed for less than 72 hours.
Are you still with me, because the Ducks neighbors, just 30 miles north up I-5, sent former Capitals
head coach, Terry Murray packing on December 12. Kings GM Dean Lombardi fired Murray one win shy of his 500th NHL victory. Lombardi turned the team over to coach John Stevens on an interim basis, and officially settled on convincing veteran head coach, and former Flames GM, Darryl Sutter, to take the job.
Sutter takes control Thursday night at home against, and I swear I'm not making this up, the Anaheim Ducks.
Not to be outdone, the NHL's most storied franchise jumped on the bandwagon, as the Montreal Canadiens fired Jacques Martin on Saturday, and replaced him with his assistant, Randy Cunneyworth, also on an interim basis.
What all of these teams, except for the St. Louis Blues, and including the Capitals have in common is a new coach has provided no lift for their teams.
It is too early to tell in LA, and Montreal, but the Kings are 1-2, and the Habs dropped a 5-3 decision to the visiting Devils at home on Saturday night. However, the Ducks, Hurricanes, and Capitals are a combined 8-15-3 since their new bosses took over. That's a winning percentage of just .308, and only the Blues, who are 13-2-4 with Hitchcock at the helm, seem firmly headed in the right direction.
With no new coach bump, GM's from all six teams may be inclined to start cleaning house, and if you think firing six head coaches before Christmas is dramatic, just watch all of the trades after the holidays if these teams don't turn things around.
That brings me full circle back to the Washington Capitals and the next step in General manager George McPhee's process. If you believe that when things go south, the head coach is the first to go, then McPhee was right in firing Boudreau.
However, many are starting to concede, myself included, that the Capitals problems are directly on the ice. Washington is undergoing their third major system change in four years, and while you could argue that's too many, and it's possible that this team doesn't know whether it's coming or going on game nights, I would argue that the Capitals are playing like bored kids that are too smart for their own good.
It starts with team captain Alexander Ovechkin and his unwillingness during the Boudreau days to make the necessary changes to turn his game around. The former Caps head coach asked several things from his captain, none of which Ovechkin complied with.
According to published reports, Boudreau moved Ovechkin to the wall on the power play. Ovechkin refused, and said he felt more comfortable on the point. Gabby and his staff implored Ovechkin to change his strategy on the attack for more than a year. Go wide instead of cutting to the middle, they told him. Use teammates instead of squeezing off low-percentage shots.
Ovechkin did what he wanted, and how he wanted. The result was the firing of Boudreau. You have to have a teachable attitude, even superstar players have to be coachable, and it appears Ovechkin is not. Boudreau and his staff begged Ovechkin to be more responsible in the defensive end, yet he could be seen on many nights, and especially during the two losses that cost Boudreau his job floating in his own zone and leaving it prematurely. At one point this season, Captain Ovie possessed the worst plus-minus rating on his team.
Boudreau wanted to distribute playing time according to current on ice performance, Ovechkin simply felt entitled to be out there, regardless of scoring slumps, and defensive lapses. Boudreau's approach of holding every player accountable for their poor play, and lack of hustle, which included the Great 8, seem to strike a nerve in some of the teams so called superstars.
The Capitals, for the most part, reacted like adolescent teenagers and quit on Boudreau. They dropped two games (Nov-19 & Nov 26) to the Maple Leafs, and Sabres by a combined score of 12-2, as both teams were missing a combined 16 regular skaters. The loss to Buffalo was the final nail in Gabby's coffin, as he was fired on Monday morning, following the Saturday night loss in Buffalo.
It's obvious, that with Washington showing just flashes of solid play during the nine games that Hunter has been behind the bench, the time is quickly coming for McPhee to enact phase two, shaking up the on ice roster by trading away some of the bigger name superstars.
At this point, McPhee needs to make a few calls and see what the market bears for some of his top players, and that also includes the Great 8. Players such as Mike Green, Alex Semin, Brooks Laich, and any one of the three goalies, could be apart of a blockbuster deal that could shake up the foundation of the Capitals less than excitable roster.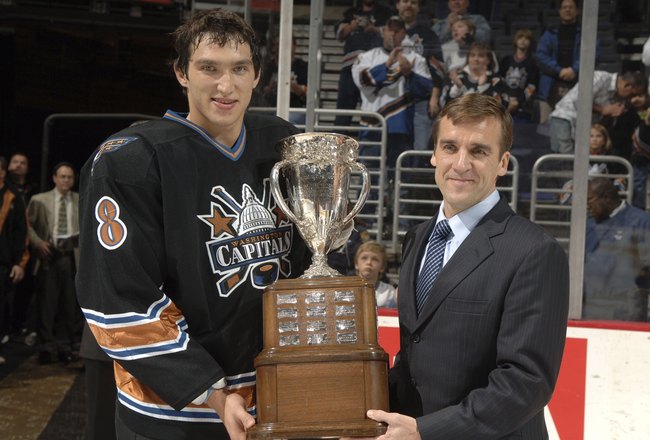 To me it's time to ship Vokoun back out of town and allow Michael Neuvirth, and Braden Holtby, currently in Hershey, a chance to grow with their team. If the Caps are unwilling to part with Vokoun, or stick with Neuvirth on a more consistent basis, then Neuvy and Holtby need to be playing, even if it's in the minors. Platooning them back and forth to Washington would probably be in the best interest of both in terms of more playing time. Seeing more pucks is seeing more pucks, period!
The only player that should be considered untouchable is Nicklas Backstrom. Of the high powered European/Russian talent skating on the Caps top two lines, only Backstrom seemed to come to camp ready to work hard for 60 minutes of every game. Only No.19 seems to be willing to address the flaws in his game.
You can make excuses for the Capitals and say defenseman Mike Green has been out since Nov. 11 and he's only played in eight of the team's 31 games. When Green has played, the Caps are undefeated with an 8-0 mark. When he hasn't, which is just about every night, Washington is 8-14-1.

The Caps lack serious scoring depth as they still need a legitimate No. 2 center. The hardnosed North American game is often brushed aside for the fancier European speed game. The Caps need a captain that is all in, and Ovechkin seems far from it at times.
That would, and should be the next step McPhee explores. If Ovechkin cares about the team he frequently calls his family, then he will do whatever is necessary to see that his "family" is a cohesive
unit ready to make a serious playoff run come spring.
Ovechkin may feel he is captain material, but the numbers certainly do not prove that. Prior to becoming the Capitals 14th team captain in franchise history, Ovechkin scored 246 goals in 348 games, and led the NHL in 2008 with 65, and again in 09 with 56 markers.
Since taking the "C", the Great 8 has been very average in terms of Ovie like numbers with just 65 total goals in 148 games. Once considered untouchable, the Capitals would be silly to turn a few high first round draft picks, and a solid North American style player for him.
With the way young players are succeeding in the NHL these days, the Caps could be set for an even longer period of time that originally thought by dealing Ovechkin. Can you imagine if McPhee could somehow pull a blockbuster deal with the Kings or Ducks by packaging Ovechkin, Semin, and Green? Both teams have the talent to return should any of them be interested.
Stranger things have happened, but I'm pretty confident McPhee will not fire another coach, especially Dale Hunter before a few super stars currently wearing red, white, and blue, are wearing different sweaters elsewhere before the first of March.