George McPhee is on the seat if the Capitals miss the playoffs, but he shouldn't be. McPhee has done more than enough to earn a mini-rebuild if the Caps miss the postseason.
Since taking over as the fifth General Manager in Washington Capitals history on June, 9 1997, George McPhee has been a very busy man. McPhee has completed 204 transactions (signings, trades, etc…) and taken part in 14 NHL entry drafts, helping to select 126 draft prospects.
Yesterday, for the first time since 2009 and just the third time in McPhee's tenure as the team's general manager, the Capitals failed to make a deal before the trade deadline directly impacting the big club. McPhee made a minor league deal a few weeks back adding depth to the the Hershey Bears when he acquired defenseman Kevin Marshall from Philadelphia, and center Mike Carmen from Colorado, but nothing was there for the Capitals yesterday.
According to Mike Vogel's Dump and Chase on the Caps website, McPhee warned anyone that would listen less than two weeks ago that he wasn't going to sell off assets leading up to today's 2012 NHL trade deadline. He also mentioned that it was possible that he would stand pat this season.
Speaking to reporters yesterday McPhee said, "Basically, I think what happened today was consistent with what I mentioned about 10 days ago. We weren't interested in moving anyone out of here, and we didn't. And we would have added something to the team if we thought it would make us better. But it had to make us better. And what transpired today, really there wasn't anything there that would have been the right thing for our club."
Despite the warning, fans and media alike are livid with McPhee and the Capitals, and even I was skeptical of his lack of activity until I took a deeper look into McPhees past and some of the moves he's made for this team.
Don't get me wrong, if the Washington Capitals fail to make the post season, McPhee could be fired, I think. He has the second highest payroll in the NHL, and has already fired the teams head coach from the previous four seasons back in November. He would be the next logical choice to go, but that would be a mistake.
McPhee said. "Everyone seemed to want our players but they wanted to give us futures and prospects. I wasn't interested in doing that." He probably wanted to move disgruntled veterans Mike Knuble, and defenseman Roman Hamrlik, and danced around the question during yesterday's press conference when asked about them. Both Knuble and Hamrlik have expressed great displeasure with being healthy scratches of late.
McPhee said, "The bottom line is we need everybody, and we're gonna need them. It's not as if people volunteer to sit out". GMGM also trusts Caps fans to understand and recognize the fact that sometimes no trade is better than a bad one. "I think we've been doing this long enough that [the fan base will] understand if there was something to do, we would have done it. ... Sometimes no deal is better than a bad deal."
Some have said that Hamrlik needed to go even if it was for a used puck bag. I'm not sure many
teams would give up a used puck bag to take on a 37-year old defenseman who's making $3.5 million per season through next year.
GMGM won't be fired for not making a move yesterday. In fact, he wasn't the only GM to sit tight as the hour struck three. There were only 16 trades yesterday involving 32 players, which matched last year's total in terms of trades, but fell well short of the 31 deadline deals made in 2010, and the 22 made in 09. The 16-trades yesterday, and last season are the fewest since 1999-00 when only 12 deadline day deals were made.
The reason so little was done yesterday is that parity is alive and well in the NHL. The playoffs are within reach for so many, as all but five teams were within six points of a playoff spot when the deadline passed. That made the market simply about making "hockey moves", and had nothing to do with teams looking to dump salaries, or more importantly willing to take on inflated ones to fill a hole as in the case of Hamrlik, and even Knuble who makes two million per season.
Teams wanted to add depth or fill in holes, but like the Capitals, weren't willing to mortgage the future to do it. Yes McPhee took a big chance yesterday not getting anything for unrestricted free agents such as Alex Semin, Dennis Wideman, and possibly Tomas Vokoun, but with a projected $20.5 million in cap space available this off season, McPhee, if he's still here, can spend wisely, and reload for next season and beyond.
McPhee was wise not to give up one of the Caps two first round picks for Buffalo Sabres third line Center Paul Gaustad, who will also be an UFA after the season. Former Caps GM David Poile of the Nashville Predators paid a big price, sending a first-round pick in the 2012 draft to Buffalo, and a fourth-round pick in the 2013 draft. Gaustad, who is known for being a faceoff specialist, had just seven goals and 10 assists in 56 games this season.
GMGM (General Manager George McPhee) is always one of the busier executives this time of year in the NHL. The Capitals have always been considered winners at the deadline with McPhee at the helm. GMGM has pulled off some damn good deals, and not just deals that help the Capitals for the rest of the season, but ones that have helped rebuild this team into what it will eventually be, a legitimate Stanley Cup contender for the next five to seven years.
He has always tried to go out and acquire the best available talent for the best price without jeopardizing the future of the Capitals, and if he says there wasn't a deal to be made, then there wasn't a deal to be made.
McPhee knows what he's doing. He was the man in charge when owner Ted Leonsis instructed him to rebuild the franchise starting in 2004 and McPhee complied by dumping huge salaries and aging stars. He began by trading Peter Bondra, the team's all-time leading scorer to Ottawa for Brooks Laich in February of 2004.
Nine days after trading away the franchise, McPhee acquired Tomas Fleischman and the Detroit Red Wings first round pick in the 04 entry draft, which turned out to be Mike Green (29 overall) for Robert Lang.
This occurred in the same draft in which Washington selected Alex Ovechkin first overall.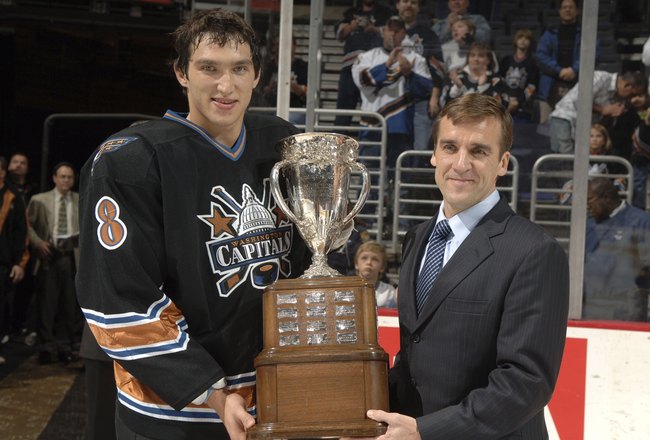 GMGM dumped an aging but still very effective Sergei Gonchar while he could get good value five days after the Lang deal, and ended up with a draft pick that turned out to be Jeff Schultz. Say what you will about Schultz this season, and every player has a bad year, but he did lead the NHL in plus/minus two short years ago.
In what was one of McPhee's better deadline years he acquired goaltender Christobal Huet from Montreal for a second round pick, and Sergei Fedorov from Columbus for Theo Ruth.
That summer McPhee traded Steve Eminger to Philadelphia and a third round pick to the Flyers for their first pick in 08 (27 overall), which happens to be John Carlson. McPhee has been responsible for bringing great players to D.C at the deadline. There was Esa Tikkanen in 1998, the year the Caps went to their only Stanley Cup finals.
McPhee has proven he knows when to hold em, and when to fold em. He has added quality depth when needed, as he did two years ago when he acquired Eric Belanger, Milan Jurcina, and Joe Corvo at the deadline.
The Caps anticipated making a move before the deadline, as they placed injured center, and still the teams second leading scorer Nicklas Backstrom on long term injured reserved. The move allowed the Capitals, who have the second highest payroll in the NHL behind the Philadelphia Flyers, $1.62 million of cap space.
Let's face it Caps fans, outside of the Buffalo Sabres, the Capitals are the most disappointing team in the NHL this season especially when you consider the moves McPhee made this past off-season. He acquired the veteran goalie everyone was screaming for, he traded for grit and toughness when he traded the Caps first round pick last June for Troy Brouwer, and he admittedly overpaid for net presence and more grit when he signed Joel Ward away from the Nashville Predators.
McPhee signed a veteran defenseman, which everyone said the Caps needed, and replaced faceoff specialist Dave Steckel, whom he traded to New Jersey at deadline last year for Jason Arnott by signing former Caps captain and Maryland native Jeff Halpern.
GMGM and the Capitals were praised for having one of, if not the best off-season of any team in the
NHL. They were immediately anointed as Stanley Cup contenders and all was well in D.C for another season. This would be the year the Capitals hoisted hockey's Holy Grail, McPhee had done his job everyone said, and did it very well.
However, it hasn't quite turned out that way as injuries, a coaching change, and poor play have the Capitals currently sitting ninth in the Eastern Conference. They are one point behind Winnipeg for eighth, and three points behind the Florida Panthers for the Southeast division lead, and No.3 seed in the conference.
This year's free agent group which was heralded has been a bust so to speak. Other than Troy Brouwer, who was acquired in a trade on draft night, none of the players signed during the first two days of July have performed up to expectations.
The disgruntled Hamrlik leads a group that is grossly under-performing, and very much overpaid in Washington. This could play a bigger role than making no moves yesterday on whether McPhee comes back if the Caps miss the playoffs. Joel Ward and Jeff Halpern each need a dozen points to match their output from last season, and based on how they are scoring that is unlikely to happen.
Ward just went 22-games between goals before he scored into an empty net on Friday night. While Halpern has been a beast at times in the face-off circle, neither he nor Ward has been very effective in front of the net for the Caps.
This team belongs to Alex Ovechkin on the ice, and he hasn't exactly been the Great 8 over the last 140 games. Once McPhee had Semin, Ovechkin and Backstrom in the fold, he built this team the only way it could be built, with speed and skill players. In doing so, it meant the Caps would be lacking in other areas. They wouldn't be as tough or as good on defense at times, two key components to be successful in the post season.
It is frustrating to be a Caps fan because that's exactly how Washington was built back in the late 80's and early 90's when they appeared to be Cup contenders then. They had plenty of defense, and toughness, but lacked enough necessary skill players to play in a league that was dominated by offense.
McPhee built this current group of players and yesterday was unwilling to sacrifice any of them despite their record this season. He obviously believes in them, and based on GMGM's past, and despite his few mistakes over the years, I believe in his decision to stand pat during the deadline. He has earned that right with his success as far as I'm concerned. Plus I would like to see how McPhee conducts a mini-rebuild with this core group of players (Ovechkin, Backstrom , and Green)
In a little less than an hour they begin a five game home stand vs. the New York Islanders, and make no mistake about it, this is the biggest home stand of the Alex Ovechkin era. When you consider the lofty expectations this team had entering the season and the fact that they are battling to make the playoffs, everyone's job is on the line, and fairly or unfairly, that includes George McPhee.