The Capitals drop their second straight during a 3-2 loss to the Rangers. Washington has yet to win 10 games on the road this season but return home to host the San Jose Sharks tonight.
A LOSS IS A LOSS, AND THEY ALL HURT THIS TIME OF THE YEAR:
No matter what you think of the Washington Capitals performance during Sunday's 3-2 loss to the New York Rangers, everyone must agree that the current Southeast division champs are no longer deep enough, or talented enough to overcome the little mistakes that are leading to big plays from the opposition.
NBC Sports hockey analyst Pierre McGuire said it best when he said during Sunday's telecast, "Washington is not getting any help (in the division), and is running out of racetrack to make a serious move in the division, much less the eastern conference".
The Capitals aren't doing much to help their cause and with Sunday's loss, remained one point behind the Toronto Maple Leafs for eighth place in the conference and two points behind the Florida Panthers for first in the Southeast Division.
Washington returns home to play the San Jose Sharks at Verizon Center tonight where they own a 19-7-2 mark, but then quickly head back out of town to play five of their next seven on the road. Washington fell to 9-15-3 on the road today, and now poses the fifth-worst road mark in the League.
LAST MINUTE STARTER:
Entering yesterday's contest, both Tomas Vokoun and Henrik Lundqvist were ranked in the top-five among NHL goaltenders in shutouts since the 2002-03 season. Vokoun ranks third in that span with
42 shutouts while Lundqvist is tied for fourth with 41, but only King Henriq would make it into the crease for the opening puck drop.
Vokoun was originally scheduled to be the starter on Sunday, but the 14-year veteran couldn't play after taking warm-ups due to what the Capitals are calling and illness and Michael Neuvirth took his place.
Neuvy made 25-saves in the contest with many stopping the Rangers at point blank range. But Neuvy still allowed his proverbial soft goal, which was the Blueshirts second of the contest.
After his defense let him down let him down on the first Rangers goal, Neuvirth simply missed judged a Ryan McDonagh wrist shot that trickled under his arm, and into the net.
Neuvirth did stop several two-on-one Ranger breaks, and kept the Caps within a goal when he made a lightning quick save on an Artem Anisimov's one-timer directly in front of his net. Neuvirth played in just his second game since Jan-22, and since Dec-15, the Caps back-up is 3-3-2 with one relief appearance against the LA Kings. During that span, Neuvirth has allowed just 17-goals (1.88 GAA).
GOOD EFFORT BUT NOT GOOD ENOUGH:
Considering how the Capitals lost on Thursday at home to the Winnipeg Jets, and considering how hot the Rangers are this season, Washington turned in a decent performance on Sunday at Madison Square Garden. However, turning in decent performances will not be enough to make the playoffs, and Washington is going to have to figure out to cut down on costly mistakes.
The Caps were playing catch up for most of the day, but could not overcome those mistakes throughout the neutral zone, and around their own net. Washington also suffered from horrible shooters luck as they hit three posts, and missed not one, not two, but three open nets.
On one occasion, Caps forward Troy Brouwer had nothing but ice and the goal line between his stick, the puck, and the back of the net. Brouwer failed to corral the puck and the Caps failed to cash in.
Washington fell behind 1-0 when Rangers Captain Ryan Callahan scored his fourth goal in two days. Callahan, who recorded his second career hat trick in Philadelphia yesterday during the Blueshirts 5-2 win, was left all alone to right of Michael Neuvirth to backhand a Brad Richards pass 11:01 into the contest.
The Caps tied the game 6:31 into the middle stanza as Jason Chimeras speed again made the difference in a Washington goal. Skating the puck up the ice, the Rangers defense was forced to respect Chimmy's speed and instead of stepping up and playing the puck, Rangers defenseman Michael Del Zotto stayed with Chimera deep into New York's zone. With the defense collapsing, Alex Semin was trailing the play and after collecting a drop pass by Chimera, drilled a slap shot past Rangers net minder Henriq Lundqvist to tie the game.
Semin's goal was his 15th of the season, and helps him continue a streak of scoring six points (three goals, three assists) in his last five games. 14 of his 34 points have come in January and February, and Semin has now registered 16 points (six goals, 10 assists) in 21 career regular season games vs. the Rangers.
CLOSE BUT NO CIGAR:
The Rangers were the far more aggressive team on Sunday afternoon, and kept the pressure on the Capitals constantly. New York, who leads the NHL in hits, leveled 37 more during the matinée affair,
outhitting the Caps by 17. Washington, who usually wins the majority of face-offs during a game, lost 31 of the 50 draws. Centers Brooks Laich, Mathieu Perreault, and Marcus Johansson combined to lose 26 of the red dot show downs.
It was this constant pressure and losing crucial draws during the game that allowed the Rangers to build a two-goal lead.
Almost seven minutes after Semin tied the game, the Rangers Ryan McDonagh used a good-looking toe drag to elude a sliding Troy Brouwer and snapped a shot past Neuvirth, which Neuvy should have stopped. However, after McDonagh released the shot, he fell to the ice holding his left leg in obvious pain. With no contact on the play it was tough to determine exactly what happened, but after being helped off the ice and to the locker room, he returned about two minutes later for his regular shift. He even managed to finish with a team-high 25:23 of ice time.
McDonagh wouldn't say what part of his leg he injured, just that it's happened before and wouldn't be a problem going forward.
The Rangers went ahead 3-1 when Brandon Prust scored his first goal since Oct-20, a span of 48 games for the hard working Rangers left winger. What made the goal so disturbing is that it came while the Caps were on the power play, and came as a result of a breakdown in Dale Hunters system.
Defenseman John Carlson failed to hold his spot on the ice, as he failed to stay home. He seemd confused what to do, and Mathieu Perreault looked no better as he appeared to be lost along the sideboard in the Caps offensive zone, and this with the extra man.
The result was Carlson losing an edge, Perreault was caught standing still and the subsequent two-on-one allowed the Rangers to score the eventual game winning goal.
Prust's game-winning shorthanded goal was the sixth shorthanded marker Washington has surrendered this season. Only four NHL teams have allowed more shorthanded goals this season: Montreal, Edmonton, Tampa Bay and New Jersey.
John Carlson's seventh goal of the year pulled the Caps within one, but that's how the game ended.
SYSTEM OF CONFUSION:
Caps defender Dmitry Orlov struggled on Sunday, as he seems to struggle at times with the trapping style of play Dale Hunter uses. Orlov's neutral zone turnover led to the Rangers first goal, but he isn't the only defender to struggle with this system.
At times John Carlson, Dennis Wideman, Karl Alzner and even Roman Hamrlik have their troubling moments within the system. Wideman seems to commit penalties when he falters with it, Carlson allows goals down low, and Hamrlik and Alzner do not have the speed needed to recover from a mistake when trapping.
Washington does have their moments, and games when they seem to have mastered head coach Dale Hunters 1-2-2 trapping style of play. Then, there are times when there are breakdowns and mistakes within the game that cannot be overcome. There are even games when Washington appears to be trapping themselves out of a chance to win.
The 1-2-2 trap is a very disciplined style of hockey for a young defense like the Capitals, and a very accountable style of play for individual style players like Alexander Ovechkin, and Semin. The 1-2-2 trap is the fourth system change for the Capitals during the past two seasons, and at times, it looks as if Washington gets confused.
The 1-2-2 trap is a style of play that is about being in the right position when you don't have the puck, and playing more of a man-on-man approach to an aggressive, pressure-based defense. In order to be successful, players must win one-on-one battles for pucks.
They must play responsible man-on-man hockey rather than rotating through zone coverage. When successful, there is less confusion among the defensemen and forwards over whom each should cover, and the opposition struggles mightily to get shots, and quality chances.
The 1-2-2 is a solid defensive structure, and forces teams into mistakes, which allows the trapping team to convert those mistakes into quality scoring chances. Most of the time, these chances start in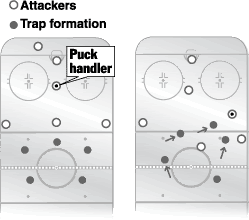 the neutral zone, or back in the team's defensive zone.
Hunter wants the Caps to employ the 1-2-2 like a spider web, allowing teams to come up ice, while his team sits and waits for the opposition to make mistakes trying to force their way through the trappers. Defensemen say they've been tasked with being about a stick-length away from an opponent, close enough to limit options without being so tight that it allows them to be beaten easily.
Karl Alzner once said shortly after Hunter took over that, "The onus is on that individual player to win their battle every time," Alzner said. "If you don't win your battle and you get beat, then we're going to have an issue and you hope someone's going to bail you out — your goalie or a weak-side forward. But it's good this way; it keeps everybody extremely honest. You've got to make sure you're doing your job and winning your job or it's not going to work."
There are three problems with this system, and both cost the Caps goals on almost a nightly basis. First, this style of play is taxing, and is more physically demanding on the players. Second, good offensive teams can beat it with speed and finesse passing.
The last thing is that the Capitals are still playing an individual game at times, and not staying within the system. Dale Hunter said following Sunday's loss, "The shorthanded one was the critical goal. That was the big one where we gave up a shorty and it ended up being a game-winner".

Hunter went on to say, "Defensively we have a responsibility to play our system and we broke down in that instance and we broke down earlier in the game. And they scored on them."
Washington must not get outworked down low or in the slot as they did on Sunday. This almost assures the opposition of many quality scoring chances. In fact, the Caps are likely to get outshot on many nights because of the style of play they use, but they quality of scoring chances is what matters most.
According to the Caps web site, prior to Sunday's game against the Rangers, Washington had been outshot in 20 straight games in terms of sheer shot volume, shots directed at the opposing net, those that include shots that are blocked and shots that miss the net.

Washington teed up 63 shots (26 on goal, 25 that were blocked and another dozen that missed the net) to 54 for the Rangers (28 on net, 13 that were blocked and 13 that missed) on the afternoon.

The last time the Caps out-volumed a team in terms of shots taken was in a Dec. 26 game against the Sabres in Buffalo. Washington fired 54 shots to Buffalo's 50 that night. The Capitals are running out of time to make the necessary adjustments with the mistakes they make in the system. Washington has just 27-games remaining in the season, and in all likelihood will need to win 15-to-17 of those games to have a reasonable chance to make the playoffs.
BACK-TO-BACK RECORD:
With the Caps scheduled to play the second game of a back-to-back set tomorrow night Vs. the Sharks, Washington hasn't exactly set the hockey world on fire this season when playing on consecutive days. Washington is 4-4-0 in the first game, and 2-3-2 in the second. The Capitals are scheduled to play five more sets of back-to back affairs this season.
SHARK HUNTING:
Next up, the San Jose Sharks will pay a visit Monday night to Verizon Center. Just as Washington did on Sunday, San Jose suffered a loss to a good defensive team. The Sharks were shutout in St. Louis as Blues goalie Jaroslav Halak made stopped 25 shots for his sixth shutout of the season, fifth in 10 starts and 22nd of his career.
After going 7-1-1 to start the month of January, February didn't start quite as smoothly for San Jose. The Sharks started the month with a convincing 5-2 win over Dallas before proceeding to lose consecutive games against Phoenix and Calgary. But in a season in which they haven't lost more than three straight games, the Sharks rebounded with a solid victory against the Blackhawks on Friday before losing on Sunday in St. Louis.
San Jose is 4-5-1 in their last 10, and have lost three of four overall. They now only lead the Los Angeles Kings by just one point in the Pacific Division. San Jose was red hot on special team until they were 0-for-4 on the power play after going 7-for-14 in the previous four games.
Before Sunday, the Sharks scored at least one power play goal in seven of its last nine games, and it is an amazing 10-for-26 (38.5 %) with the extra man during that stretch. In that same nine-game span, the Sharks have successfully killed off 20 of the 24 shorthanded situations they have faced, but allowed a pair of power play goals in Sunday's loss to the Blues.

San Jose will be playing their second game of a huge nine-game trip in which the Sharks will play three sets of back-to-back games. The trip lasts for 16 day, and finishes with a game in Minneapolis against the Wild on Feb. 26. Heading into the trip, San Jose has played the fewest road games of any team in the league, but will play nearly a quarter of their road games for the season on this trip.
The Sharks are led by perennial All-Star center Joe Thornton. San Jose's captain has 2 goals and 4
assists in his last five games, and leads the team in points with 47. Sandwiched between two 32-year-old veteran centers in San Jose for the overall lead in team scoring is 22-year-old Logan Couture. The former first round (9th overall) selection of San Jose during the 2007 NHL Entry Draft leads his team with 23 goals and is second in pints with 44.
Third on the Sharks in scoring is center Patrick Marleau, who has 20-goals and 42-points. Overall, defenseman Brent Burns has shined for the Sharks lately, posting eight points in his previous five games. Joe Pavelski also has six points in his last six games.
The Sharks starting goalie is former Stanley Cup winning back stopper Antti Niemi, The former Chicago Blackhawk is 23-12-5 this season with a middle of the pack GAA of 2.35 and a .917 save percentage. With this being the second of back-to-back affairs for the Sharks, it is possible the Caps could see Thomas Greiss. A native of Straubing, Germany, Greiss has never faced the Capitals in his career and has made just 31 lifetime starts. This season he is 7-4-1 with a solid 1.98 goals against average.
Washington dropped a 5-2 decision back in San Jose on Jan-7. The Capitals have not won at the Shark Tank since winning their first game there in October of 1993. The Capitals have gone winless in San Jose, losing 11 games and tying one while getting outscored 46-23 in the process.
San Jose is expected to be without Jason Demers (lower body), Tommy Wingels(upper body) and Martin Havlat (hamstring).
The Capitals have never had much luck vs. San Jose, at home or on the road. They are 9-19-1-1 in 30 games, and have been outscored 95-75. Last season, The Sharks shutout Washington 2-0 at Verizon last Feb-8 as Logan Couture, and Dan Boyle scored two third period goals. Niemi made 25-saves for the shutout win. Michael Neuvirth stopped 34-of-36 San Jose Shots, but it wasn't enough.
With so many games on the road over the next 10 days, Tonight's game is once again a must win for the Capitals. Beating San Jose has never been easy for Washington. With just 27 games remaining, and only 13 at home, the Caps will almost have to win every one of them to have a shot at making the playoffs this year.
If the situation sounds desperate, it is. Don't kid yourselves Caps fans into believing that because they have won four straight division titles a fifth straight is a gimme, it's not. Losing is not an option tonight, and if the Caps don't pull out every stop to beat San Jose, this season may soon be considered one of the most disappointing in franchise history, if that is even possible anymore.